Up:Tutorial?
---
Joint Definition †
Rotational axis of joint is:
y axis : vertical direction (upper is positive)
x axis : crosswise direction (left is positive)
z axis : front‐back direction (front is positive) from the viewpoint of avator.
The link name is used when the camera is attached to agents.
Humanoid Models (Robot-nii.xml,Man-nii.xml) †
| | | | | |
| --- | --- | --- | --- | --- |
| Joint name | Y axis | X axis | Z axis | Link Name |
| Neck | HEAD_JOINT0 | HEAD_JOINT1 | - | HEAD_LINK |
| Left shoulder | LARM_JOINT0 | LARM_JOINT1 | LARM_JOINT2 | LARM_LINK2 |
| Left elbow | LARM_JOINT3 | LARM_JOINT4 | - | LARM_LINK4 |
| Left wrist | LARM_JOINT5 | LARM_JOINT6 | LARM_JOINT7 | LARM_LINK7 |
| Right shoulder | RARM_JOINT0 | RARM_JOINT1 | RARM_JOINT2 | RARM_LINK2 |
| Right elbow | RARM_JOINT3 | RARM_JOINT4 | - | RARM_LINK4 |
| Right wrist | RARM_JOINT5 | RARM_JOINT6 | RARM_JOINT7 | RARM_LINK7 |
| Waist | WAIST_JOINT0 | WAIST_JOINT1 | WAIST_JOINT2 | WAIST_LINK2(body) |
| Body | ROOT_JOINT0 | ROOT_JOINT1 | ROOT_JOINT2 | WAIST_LINK0(hip) |
| Left Hip | - | LLEG_JOINT2 | - | LLEG_LINK2 |
| Left knee | - | LLEG_JOINT4 | - | LLEG_LINK4 |
| Left ankle | - | LLEG_JOINT6 | - | LLEG_LINK6 |
| Right Hip | - | RLEG_JOINT2 | - | RLEG_LINK2 |
| Right knee | - | RLEG_JOINT4 | - | RLEG_LINK4 |
| Right ankle | - | RLEG_JOINT6 | - | RLEG_LINK6 |
| Left eye(human only) | LEYE_JOINT1 | LEYE_JOINT0 | - | LEYE_LINK |
| Right eye(human only) | REYE_JOINT1 | REYE_JOINT0 | - | REYE_LINK |
Wheel-based humanoid robot (WheelRobot-nii-v1.xml) †
| | | | | | | | |
| --- | --- | --- | --- | --- | --- | --- | --- |
| Joint name \ Joint axis | Y-axis(0,1,0) | X-axis(1,0,0) | Z-axis(0,0,1) | (1,0,1) | (1,0,-1) | | Link |
| Neck | HEAD_JOINT0 | HEAD_JOINT1 | - | - | - | | HEAD_LINK |
| Left shoulder | LARM_JOINT0 | LARM_JOINT1 | - | - | - | | LARM_LINK2 |
| Left elbow | LARM_JOINT3 | LARM_JOINT4 | - | - | - | | LARM_LINK4 |
| Left wrist | LARM_JOINT5 | LARM_JOINT6 | LARM_JOINT7 | - | - | | LARM_LINK7 |
| Right shoulder | RARM_JOINT0 | RARM_JOINT1 | - | - | - | | RARM_LINK2 |
| Right elbow | RARM_JOINT3 | RARM_JOINT4 | - | - | - | | RARM_LINK4 |
| Right wrist | RARM_JOINT5 | RARM_JOINT6 | RARM_JOINT7 | - | - | | RARM_LINK7 |
| Body | WAIST_JOINT0 | WAIST_JOINT1 | WAIST_JOINT2 | - | - | | WAIST_LINK2 |
| Pole | - | - | - | - | - | | WAIST_LINK1 |
| Foundation | ROOT_JOINT0 | ROOT_JOINT1 | ROOT_JOINT2 | - | - | | WAIST_LINK0 |
| Left eye | - | - | - | - | - | | LEYE_LINK |
| Right eye | - | - | - | - | - | | REYE_LINK |
| Left front wheel | - | - | - | LFWHEEL_JOINT0 | - | | LFWHEEL_LINK0 |
| Left back wheel | - | - | - | - | LBWHEEL_JOINT0 | | LBWHEEL_LINK0 |
| Right front wheel | - | - | - | - | RFWHEEL_JOINT0 | | RFWHEEL_LINK0 |
| Right back wheel | - | - | - | RBWHEEL_JOINT0 | - | | RBWHEEL_LINK0 |
Joint †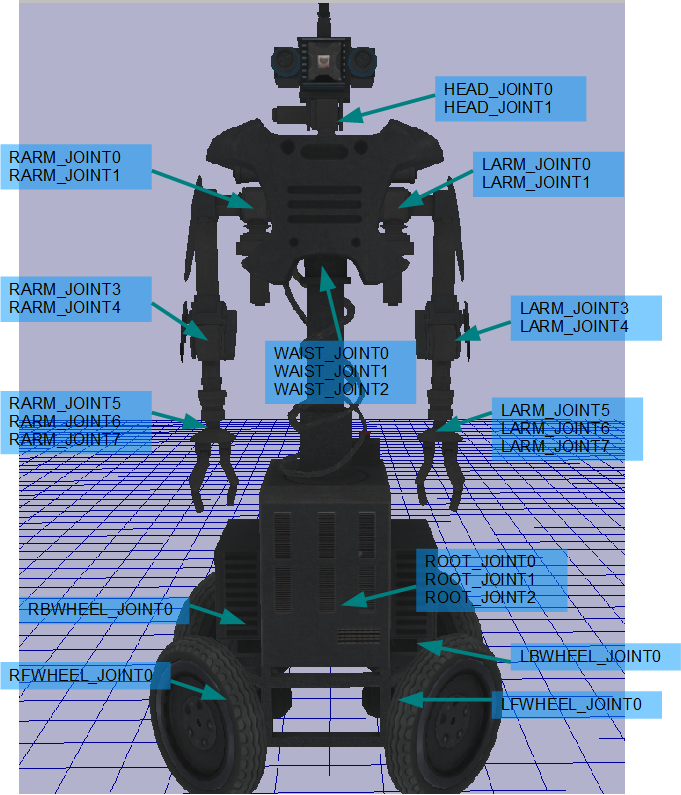 Link †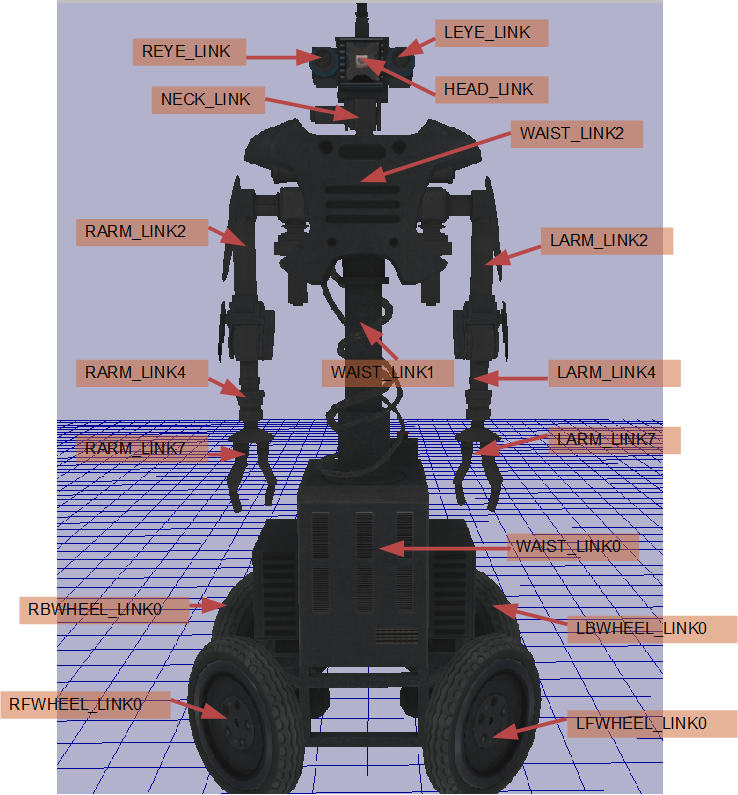 Counter: 3924, today: 1, yesterday: 0