Up:Tutorial?
---
The aim of this tutorial is to explain how to create a service provider for SIGVerse using Microsoft Visual Studio.
We will create a simple service provider as example to send messages to a specified entity of the SIGVerse virtual world from the client side to the server side.
Microsoft Visual Studio 2008 will be used as a development tool.
Creation of the Service Provider †
Downloading the libraries †
We first need to download SIGVerse libraries, to do so, go to the service libraries web page and download the appropriate version.
Creating a new project †
Now let's create a new project on MVS 2008.
Go to: File -> New Project , then select Empty Project, enter the project name "MyService" and press Ok.
Right click on Source Files -> Add -> New Item -> C++ File (.cpp), then enter "MyService.cpp" in the Name field.
Service sample †
Now let's create our example.
Copy/past the following code to MyService.cpp file:
MyService.cpp
Replace the hostname and port number with your server arguments.
Setting the library †
Extract the libraries in MyService project directory.
Go to the MVS, Right click on the project, and go to properties.
Add the include directory †
Go to Configuration Properties -> C/C++ -> General -> Additional Include Directories, and specify the following path:

"..\SIGService_v2-1-0\include"
Add the library directory †
Then, go to linker -> General -> Additional Library Directories, and add the following path:

"..\SIGService_v2-1-0\lib\Debug"
Add the "SIGService.lib" library †
In Linker -> Input -> Additional Dependencies, and add the following library:
Server †
In the server side, we have to create the controller and the world file.
Controller †
controller.cpp
World file †
worl.xml
Running the service †
In the server side, compile and run the the controller:
$ cd path-to-the-controller
$ make
$ sigserver.sh -w ./world.xml
Run SIGViewer
Start the service provider
In the server side you will see the following message:
$ [MSG]  man_000(0.0.0.0) Hello
Registering the plugin †
To register the plugin in SIGViewer, you have to follow these steps:
1- Rename the MyService.exe in debug directory to MyService.sig.
2- Run SIGVIewer, go to Services -> Add, then click on Add button.
3- Select the path to the MyService.sig file and press OK.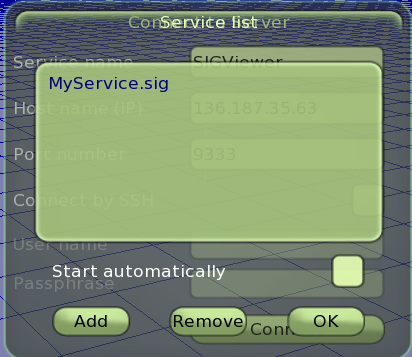 4- To run the service, go to Services -> Start -> MyService.sig.
Counter: 2662, today: 1, yesterday: 0